A Guide to the Construction Loan Process
02/02/2023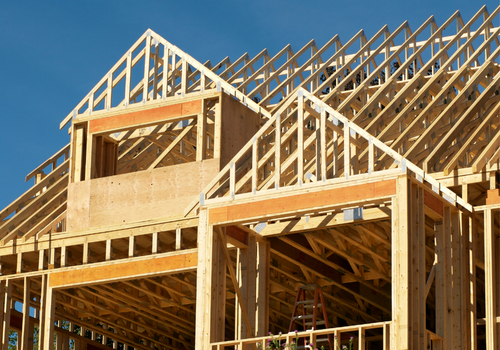 Purchasing a new home can be stressful and confusing, especially when financing your home with a mortgage loan. The mortgage that most homebuyers have the most questions about is a construction loan to build a new home. Below are some tips that will guide you through the construction loan process at First Metro Bank to make this as easy as possible for you to build the home of your dreams.
GET PRE-QUALIFIED
Firstly, you need to visit your First Metro Bank lender to discuss your plans to pay for building your home. Getting pre-qualified can help you know your limits on what you can and cannot afford before you get into deep discussions with your builder.
CHOOSE A QUALIFIED, REPUTABLE BUILDER
A trustworthy and knowledgeable builder is one of the most significant assets in building a home. Without this, you could be left with work that is done incorrectly, inefficiently, or out of budget.
CHOOSE A LOT OR LAND TO BUILD ON
If you don't already own the land you intend to build on, you will want to look for available lots or land. Getting a dependable realtor involved with your land purchase can be very helpful. Involve your lender in this process to decide whether or not it is better to purchase the land separate from your construction loan.
PROVIDE PLANS, COST ESTIMATE, & PROPERTY ADDRESS TO YOUR LENDER
Once you have plans, a cost estimate, and the property address, a lender can begin to process your mortgage. Your lender will ask for your personal financial information to underwrite your file and will begin moving toward getting your mortgage closed and starting the building process.
BUILD YOUR DREAM HOME
Once your mortgage is closed, you can begin seeing your dream home become a reality. Your lender will work closely with you and your builder to ensure the progress of your home is coming along as planned.
Frequently Asked Questions:
Can I borrow all of the costs to build my home?
How much money you can borrow on your construction loan to build your home will depend on several factors. You and your First Metro Bank lender must discuss whether you want to purchase your land separately or not. If you already own your land, you can borrow 80% to 85% of the appraised value of your home's plans. If you are purchasing land at the same time as the closing of your construction loan, you will be able to borrow 80% to 85% of the total costs of the home and land or the appraised value. Depending on the situation, it could be more beneficial to purchase the land separately.


Do I have to do two separate loans with two different approvals for building my home and after my home is finished?
No. At First Metro Bank, we qualify all our construction customers on a Construction-Permanent loan, one transaction from beginning to end. You will still sign some paperwork in the beginning and then more paperwork in the end; however, all the closing costs are treated as one loan and are not duplicated. You will establish a construction interest rate that is fixed during construction. You will have an opportunity to lock in a permanent interest rate for your permanent mortgage as you get close to being finished with your home. In the beginning, the approval is for the construction and permanent loan together.


How much are my payments?
With construction loans, you pay the interest due every month, but you only pay interest on the amount of money you have used to build your home to that point. Initially, this interest payment is small, and as you use more money to build your home, that payment grows. You are only paying interest on the money you have used every month.


How do I get the money from my loan to pay my builder when it is needed?
A construction loan is set up on a draw basis. That means that the mortgage department will set the loan up as a line of credit and make draws to a checking account for you as you request the necessary monies. Then, you write checks to your builder from your checking account as needed. You let us know when you need money so we can transfer it from the loan to the checking account. We will check the progress of the building of the home regularly using inspectors that will report a percentage of completion.
What if I need more money than I initially thought?
This is called an overage. We cannot guarantee that overages can be financed in the loan. Some things you may have spent more money on do not necessarily mean you have increased the appraised value. Therefore, if you end up with an overage, you could be required to pay that overage out of your own funds. For example, if square footage was added to your home, there could be an increase in appraised value, and it could be possible for us to increase your construction loan to help fund an overage. Keep in mind that if you fund an overage by increasing your loan, you can no longer stay in the Construction-Permanent transaction and will have a separate approval and closing.
While building a home can be stressful, having a lender and builder in place that can work together with you throughout the process will help make this easier than you imagined. To learn more about First Metro Bank's mortgage services, visit our online mortgage center.
View all posts