Mortgage Terms & Definitions
01/05/2023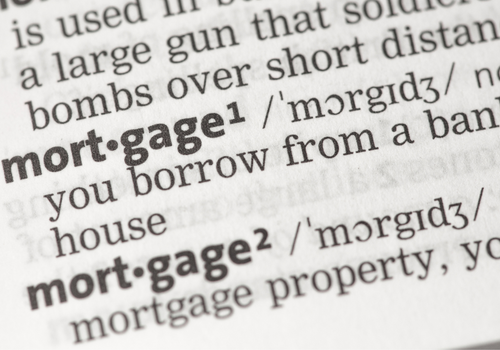 The home-buying and building process can be an overwhelming so knowing the jargon and terminology will give you a leg up. We've compiled a list of terms that you'll hear throughout your entire journey to home ownership.
Amortization

The process of how payments spread out over time. When you make a payment on your mortgage, a percentage of your payment goes toward interest and a percentage goes toward your loan principal.



Annual Percentage Rate (APR)

The interest rate paid on a loan annually plus any additional lender fees. APR is usually expressed as a percentage.



Appraisal

A rough estimate of how much a home is worth. Mortgage lenders require an appraisal before you sign on a home loan. The appraisal assures the lender they aren't loaning you more than what your home is worth.



Basis points (BPS or 'bips')

A standard measure for interest rates and other percentages in finance. A single basis point equals 1/100th of 1 percentage point (100 basis points would add up to 1%).



Closing

The last step in buying and financing a home. All parties in a mortgage loan transaction sign the necessary documents. After signing these documents, a borrower becomes responsible for the mortgage loan.



Closing costs

Settlement costs and fees paid to a lender in exchange for finalizing your loan. Common closing costs include appraisal fees and loan origination fees.



Conventional mortgage

Any mortgage loan that is not insured or guaranteed by the government.



Construction permanent loan

This type of construction loan combines the approval process of a construction loan and a permanent mortgage. It normally consolidates the costs of these loans into one transaction and sets rules to follow to make sure that from construction to permanent, financing remains one transaction.



Debt-to-income ratio (DTI)

A measure of the relationship of your monthly debt to your monthly earnings before taxes.



Deed

The physical document you receive during the closing that proves you own your home.



Down Payment

The upfront payment made towards a loan.
Escrow account

The account where a lender holds money for property taxes, mortgage insurance, or homeowners' insurance.



FHA loan

A mortgage type insured by the Federal Housing Administration (FHA) that allows more lenient borrowing guidelines than conventional loans.



Fixed-rate mortgage

A mortgage that has the same interest rate throughout the term of the loan.



Listing agent

A real estate professional who represents the home seller in a real estate transaction.



Mortgage lender

A company such as a bank or credit union that processes, underwrites, and funds a home loan.



Multiple Listing Service (MLS)

Privately owned databases that allow real estate professionals to share information with each other about properties for sale.



National Multistate Licensing System (NMLS)

A centralized online database that is used by mortgage and finance regulatory agencies to maintain state licensing programs. A NMLS Unique Identifier is the number permanently assigned for a company, branch, and individual that maintains a NMLS account.



Origination fee

A fee or group of fees paid to a lender for processing and funding a mortgage.



Pre-approval

An assessment of what a mortgage lender might lend you based on a preliminary review of your credit, debt, income, and assets available for a down payment.



Refinancing

Replacing an existing mortgage with a new mortgage that has more beneficial terms.



Underwriting

What happens behind the scenes once a mortgage application is submitted. The process a lender uses to take an in-depth look at credit and financial background to determine if someone is eligible for a loan.



USDA loan

A loan program backed and guaranteed by the U.S. Department of Agriculture (USDA) that helps low-to-moderate homebuyers finance homes in designated rural areas of the country.



VA loan

A mortgage backed and guaranteed by the U.S. Department of Veterans Affairs (VA) for active duty servicemembers, veterans, and eligible spouses.
View all posts