Tips for First-Time Home Buyers
12/27/2022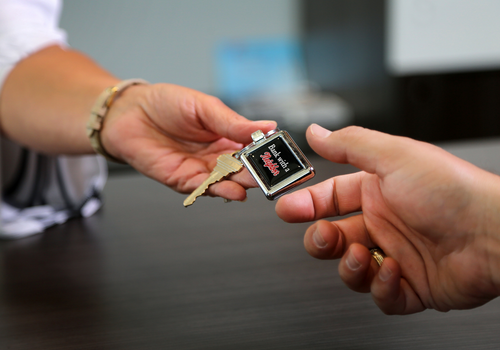 Buying a house for the first time is a big step! Before you jump into the process, knowing what to expect is important. Here are a few tips from our mortgage team as you start your journey to homeownership.
Learn what you can afford
The average term for a mortgage loan is 15 to 30 years, so make sure you're ready to commit. Our online mortgage calculators can help you determine what you can afford and what your monthly payments would be. Your household income, debt-to-income ratio, and amount of savings play a role in how much you can afford.
Save for a down payment
Saving for a down payment can be one of the biggest challenges for potential home buyers. Your down payment depends on your mortgage type and mortgage lender. Even a small down payment can be a challenge to save. With some loan types, a 20% down payment is required, so the earlier you can start saving, the better.
Check your credit
Mortgage lenders look very closely at credit scores. Your credit score determines whether you qualify for a mortgage and affects your interest rate. Usually, the higher your credit score, the lower your interest rate. Some ways to strengthen your credit are to pay all your bills on time, keep your credit card balances low, and check your credit report.
Choose the right mortgage from the right lender
Various lenders offer various mortgage types that depend on your financial situation and priorities for homeownership. You'll need to decide if you want a fixed or adjustable rate, a conventional or government-backed loan, and what term you want. Do your research, and don't settle for the first offer you receive. Contact more than one mortgage lender at various financial institutions to compare interest rates, closing costs, and any additional fees. When choosing a lender, consider how you communicate with the lender. Does the lender offer online applications? Do you prefer an in-person experience? Are you comfortable with communicating via phone call or email? What are the minimum qualifications to apply?
Get pre-approved for a mortgage
Getting pre-approved by a mortgage lender lets you know how much you can borrow and what kind of mortgage you are eligible for, which helps you better prepare for the home-buying process before you start the process. To check your pre-approval, you'll need to provide details about income, debt, employment, and other financial information to a lender. Visit First Metro Bank's mortgage center to see if you're pre-approved and check rates.
Choose a reputable real estate agent
A trustworthy and reputable real estate agent will work with you and your mortgage lender to make the home-buying process much more manageable. Do your research, ask for referrals from friends and family, and meet with multiple agents to ensure it's the right fit.
Whether or not you choose First Metro Bank as your mortgage lender, our mortgage team is here to help! Visit our online mortgage center or give us a call at 256-314-1600 for questions or to set up a meeting with one of our mortgage lenders.
View all posts